Transistor Meter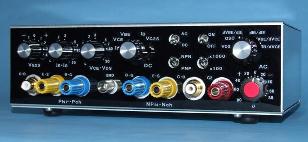 The Transistor Meter is Transistor characteristics test equipment. This meter use for DC and (270[Hz] to 1000[Hz] of) AC small signal testing for BJTs, JFETs, MOSFETs and Dual Gate FETs.

This meter use PSD (Phase Sensitive Detector) for AC measurement because measurement signal is micro volt level of small signal. However you can use DC voltmeter even analog multi-tester after building. Unfortunately, this is difficult project for beginners, because an error of the AC measurement occur by stray capacitance.
Small signal BJTs and FETs are use for a circuit that expose higher voltage spikes (ex. ignition of the vehicle and Electric Static Discharge at input/output of the equipment). And also cite low-cost products or products that has long term of life cycle. If you have performance failure of transistor circuit, you can find the mechanism smoothly when you have transistor meter. The transistor meter use for these situations.
The document is 29 pages of pdf file and file size is 363kB (334kB for zip). This document include circuit diagram and explanation of each circuit block.

August/15/2009