シカゴ商品取引所小麦・トウモロコシ・大豆先物相場(期近・セツルメント)の推移

史上最高:小麦=9.24/bushel(08.6.26) トウモロコシ=7.7325/bushel(08.6.1) 大豆=16.58/bushel(08.7.4)
1bushel=27.215kg(小麦・大豆)、25.401kg(トウモロコシ)

コメント/ニュース(最新

:

20.9.12)

最近260取引日:19.9.7-20.9.18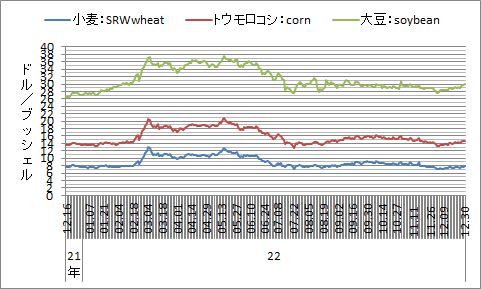 注)大豆生産コストは8.86〜9.21ドル/ブッシェルとされている。

(20年9月19日)

ラニーニャ意識、農産物が高値 異常気象で収量減観測も 投機筋がトウモロコシなど買い 過去には相場高騰も 日本経済新聞 20.9.18

(20年9月16日)

限月は9月15日をもって小麦・トウモロコシが9月から12月、大豆が9月から11月に変わる。

(20年9月12日)

11日発表の米国農務省:World Agricultural Supply and Demand Estimatesが今年(2020/21年)の米国産大豆及びトウモロコシの生産見通しを先月発表の数字から大幅に引き下げた。これを受け、シカゴ大豆先物が17年5月以来初めてブッシェル10ドルを突破。トウモロコシも上昇基調がはっきりしてきた。

(20年9月1日)

Iowa's farmers reeling from a double blow — first the derecho, now a drought,Des Moines Register,20.8.31

A derecho's hurricane-force winds slammed through about half of Chad West's 4,500 acres of corn and soybeans Aug. 10. Now, the drought is burning up the rest of his crop, the central Iowa farmer said.

トウモロコシ

West, 49, spent part of this week disking under 300 acres of corn that's considered a complete loss.

"You put so much time, money and effort into a crop, to give up and say, 'We're not going to harvest this' ... it's really disheartening," he said, adding that he anticipates he will need to disk under another 400 flattened acres of corn, too.

The ever-widening drought now encompasses three-fifths of Iowa, the U.S. Drought Monitor's latest map showed Thursday. Nearly all of the rest of the state is considered abnormally dry, with only a few pockets of Iowa escaping both the drought and derecho

(20年8月28日)

Futures File: Soybeans soar due to drought concerns,Des Moines Register,20.8.28

Soybeans neared a one-year high on Friday, exceeding $9.47 per bushel. Prices are shooting higher on continued concerns that weather is too dry in much of the Midwest, especially Iowa and Illinois, the nation's top two soybean-growing states.

(20年8月26日)

暴風に乾燥の追い討ちでトウモロコシが上昇

Low rainfall in US Midwest drives corn prices higher,FT.com,20.8.26

‎Benchmark up almost 4% since start of week as sweltering heat hits crop conditions

Worries about a lack of rainfall this month in the US Midwest have lifted corn prices, with data from the US Department of Agriculture pointing to deteriorating crop conditions.

Benchmark corn prices are up almost 4 per cent since the start of the week at $3.39¼ a bushel, and have gained 9 per cent over the past two weeks

Prices had already received a boost after crops were damaged during a storm on August 10 that hit Iowa, a key corn-growing state. The latest concern, however, has been the low rainfall in the US corn belt throughou

(20年7月11日)

GRAINS-Wheat futures top two-month high on global harvest worries,Reuters,20.7.10

CHICAGO, July 9 (Reuters) - U.S. wheat futures on Thursday leapt to their highest prices in more than two months at the Chicago Board of Trade, as the latest crop estimates in major exporting countries like Argentina, France and Russia raised questions about global supply.

Corn and soybean futures also strengthened, as weather forecasts predicted more heat and dryness in the U.S. Midwest crop belt later this month. Positioning helped support gains ahead of Friday's monthly supply and demand outlook from the U.S. Department of Agriculture.

Analysts expect the USDA will trim its estimate for U.S. wheat production in the latest cut to global harvest estimates from crop forecasters around the world. Production forecasts have also declined this week in exporters like Argentina, Russia and France.


Economy ministry signs memo with grain market players for agreeing on export volumes, not for limiting exports – minister,Inter-fax Ukraine,20.7.8

‎The Ministry for Development of Economy, Trade and Agriculture of Ukraine signed the memorandum with grain market players for the current season for agreeing on the volumes of grain exports, not for limiting them, Minister of Economic Development, Trade and Agriculture Ihor Petrashko has said.

Ukraine exports record 57 mln tonnes of grain in 2019/20 agri-year,Inter-fax Ukraine,20.7.8

‎According to the results of the agricultural year 2019/2020 (July-June), Ukraine exported 20.5 million tonnes of wheat and 30.3 million tonnes of corn, the Ministry for Economic Development, Trade and Agriculture has reported, citing data from the State Customs Service.

(20年7月2日)

Futures File: Corn rockets higher,Des Moines Register,20.7.2

Corn prices put on a dazzling display this week, exploding to three-month highs on the heels of a USDA report.

On Tuesday, the U.S. Department of Agriculture updated its estimates of this year's planted acreage and shocked markets with a drastic cut of 5 million corn acres.

This news created fireworks across the grain markets, with December corn futures topping $3.60 per bushel. Wheat and soybeans went along for the ride, with Chicago wheat nearing $5.00 and November soybeans topping $9.00.

Despite the slashed corn acres, this year's plantings will likely outpace 2019, and crop conditions are stellar so far, suggesting a bin-busting crop. If weather stays good, corn supplies could exceed expectations and send prices careening lower again.

(20年4月22日)

21日、トウモロコシがブッシェル3.092ドルで07年8月以来の最低:ブッシェル3.004ドル(09年9月4日)に最接近。

(20年4月4日)

新型コロナによるパニック買いなど米欧で吊り上がっていた小麦、もう落ち着いてきたようである。

他方、新型コロナによる"ロックダウン"の影響で自動車移動が激減、それに伴うガソリン→燃料エタノール需要の減少で、エタノール原料=コーンは07年以来のどん底にまで落ち込んだままだ。コーンベルト農民は、おそらく立ち直ることができないほどに疲弊している(Midwest farmers face a crisis. Hundreds are dying by suicide.,Des Moines Register,20.3.10)。

(20年3月26日)

新型コロナ 米欧の小麦先物相場が急騰 コーンは燃料エタノール需要減で低迷

(20年3月17日)

Dow has worst point loss ever, soybeans lose 27¢ Monday,Successiful Farming,20.3.16

INDIANOLA, Iowa -- On Monday, the CME Group's farm markets get weighed down by the continued coronavirus crisis.

At the close, the May corn futures settled 11¢ lower at $3.54½. July corn futures ended 10¢ lower at $3.58


May soybean futures finished 27¢ lower at $8.21¾. July soybean futures closed 25½¢ lower at $8.30¾.

May wheat futures closed 8¢ lower at $4.98.

May soymeal futures closed $3.20 per short ton lower at $296.30. May soy oil futures closed 0.79¢ lower at 25.58¢ per pound.

(20年1月31日)

GRAINS-Soybean futures set eight-week low as coronavirus worries deepen,Reuters,20.1.31

→米国大豆先物相場、コロナウィルスで急落 トランプ再選戦略に影?

(20年1月17日)

Uncertainty over China-US trade deal hits soyabean prices,FT.com,20.1.16

‎Commitments by Beijing to purchase more farm goods has been met with scepticism

Soyabean markets slid after the US and China signed a long-awaited preliminary trade agreement, reflecting uncertainty about Beijing's promises to purchase more farm goods. The oilseed has historically been the biggest US farm export to China, which uses it to make livestock feed and cooking oil. China's government on Wednesday committed to imports of at least $80bn worth of US farm goods over the next two years, or an average of $40bn a year, the US Trade Representative's office said. The list includes bulk commodities such as soyabeans and cotton as well as consumer products such as dietary supplements and wine. The agreement also allows China to make purchases "at market prices based on commercial considerations" and consider "market conditions" in timing them. The latter provision raised questions about the whether China would follow through between now and 2021, said Ken Morrison, an agricultural markets analyst based in St Louis.

(19年10月12日)

US agrees limited trade deal with China,FT.com,19.10.12
Beijing has agreed to some additional purchases of farm goods, particularly soyabeans and pork, to an annual value between $40bn and $50bn, more than double the levels before the trade war, according to Mr Trump.

Trump announces partial trade deal with China, lifting hopes that tensions could ease,The Washingtron Post,19.10.12
The first steps include an increase in Chinese agricultural purchases, good news for American farmers who have lost billions of dollars in sales during the trade war. China recently began stepping up orders of U.S. farm products as a deal neared.
But exports of U.S. soybeans to China fell from $12.2 billion in 2018 to just $3.1 billion last year, according to the U.S. Census Bureau.Trump said the phase one deal would be "tremendous" for farmers. "They're going to have to buy more land fast and lots of tractors," he told reporters.

(19年10月10日)

Beijing eyes buying extra US farm products to ease tension,Financial Times,19.10.10,p.3

"China has fundamentally agreed to all of theUSDA's demandes on beef,pork and lamb"

China offers to buy extra US goods to ease trade war,FT.com,19.10.9

Proposal for increased agricultural purchases aimed at 'reset' ahead of Washington talks


Trump ethanol plan fails to cheer biofuel markets,FT.com,19.10.8

The US ethanol industry sounded elated last week when the Trump administration unveiled long-sought reforms to shore up biofuel demand, but the reaction in the markets has been less enthusiastic.

The price of compliance credits used in ethanol markets has fallen since Friday's announcement by the Environmental Protection Agency, reflecting questions about the details and doubts it could drive greater sales, analysts said.

Most petrol sold in the US contains about 10 per cent ethanol. The commodity is of huge economic importance in Midwestern US states, where more than a third of the corn crop is sold to ethanol plants. These states, in turn, are crucial to Donald Trump's re-election prospects in 2020.

Mr Trump's EPA on Friday announced a plan to push ethanol demand to 15bn gallons a year — the level required by a congressional mandate — in 2020 after previously punching holes in the mandate by giving exemptions to dozens of oil refiners.

If successful, the plan would soften the impact of the exemptions on ethanol demand, pushing up the price of credits that oil refiners purchase to meet blending requirements. The credits are formally known as Renewable Identification Numbers, or Rins.

But after Friday's announcement, the Rin credits "have been falling off a cliff", said Denton Cinquegrana of Opis, a fuel price information service. Opis reported the average price of ethanol Rins was 20 cents a gallon on Monday, down 16 per cent from Thursday and close to the average price of 2019.

The drop reflected "disappointment" in the proposal, said Bill Lapp of Advanced Economic Solutions, a consultancy. The price of ethanol swaps was $1.485 a gallon in Chicago on Monday, down 2.3 per cent from Thursday. Corn futures also settled at $3.87 a bushel, slightly lower than Thursday

・・・・・・

(19年9月14日)

米国が中国製品に対する関税追加の先延ばしするとしたことに応え、中国が米国産品に対する追加関税の適用対象から大豆・豚肉を除外、輸入を奨励すると発表した。これにシカゴ大豆相場が反応、急騰した。

中国、米国産農産物の新たな購入分への追加関税適用除外 新華社通信 19.9.13

China to exempt some US pork and soy imports from tariffs,FT.com,19.9.13

China said it would cancel additional tariffs on imports of soyabeans and pork that it intends to purchase from the US, in the latest of a series of goodwill gestures aimed at de-escalating a trade war between the world's two largest economies.

China has encouraged companies to buy "a certain quantity" of pork and soyabeans from the US and they will be exempted from additional tariffs, state-run broadcaster CCTV reported, apparently referring to duties imposed since the start of the trade war.

It did not state the amounts that will be purchased. Soyabeans were the US' second-largest export to China ahead of the trade war, with $12bn sold to China in 2017. But exports plummeted last year as both sides raised tariffs on each others' exports.・・・・・・ 

(19年8月14日)

大雨による収獲減少が予想外に少ないことを示すう農務省予想(Crop Production)を受け、跳ねあがっていた小麦・トウモロコシ相場が元の木阿弥。

(19年6月25日)

ヨーロッパの熱波とアメリカの大雨が小麦相場を支える

Le blé américain soutenu par la canicule en Europe,Agri Mutuel,19.6.25

Les cours du blé américain ont fini en nette hausse lundi, aidés par des conditions météorologiques difficiles, entre la canicule en Europe et la persistance de pluies aux États-Unis. Les cours du maïs et du soja ont aussi progressé.

(19年6月15日)

トウモロコシ、5年来のブッシェル4.5ドル越え。

 春季温暖化でアメリカ中西部は大雨続き、アイオワ州の4月から6月にかけての降水量は過去10年の平均を24%上回る。おかげでトウモロコシ・大豆畑は水浸し、今週初め(6月4日 Crop Progress)のトウモロコシ播種進捗率は67%にとどまっている(例年はの96%)。大豆はたったの39%にすぎない。

 このため、国連・世銀等による農産物市場情報システム(

AMIS

)は

6

月

6

日、

2019

年世界トウモロコシ生産見通しを

5

月

9

日の見通しから

3900

万トン引き下げた(米国の減少は

3600

万トン)(http://www.amis-outlook.org/#jfmulticontent_c363419-3)。


Heavy rainfall damps prospects for Midwestern farms,FT.com,19.6.7

 

 シカゴ先物相場は下がりそうにない。

日本の輸入価格=飼料価格への影響も必至であろう。

<関連>Food prices rise amid weak production outlook for maize,FAO,19.6.6

   

トウモロコシ、3年来(16年6月以来)の高騰

Corn prices jump to 3-year high amid extreme wet weather,FT.com,19.5.29

Corn prices popped to a 3-year high after a severe delay in plantings in the US midwest due to extreme wet weather.

CBOT corn was trading above $4.38 a bushel, the highest since June 2016. Corn prices have soared 24 per cent since the start of the month amid wet weather conditions.

According to the latest crop progress report from the US Department of Agriculture, only 58 per cent of corn fields had been sown by the end of last week. That is far lower than the 90 per cent planted on average in the past five years.

"The window for corn planting is gradually closing if the risk of yield shortfalls is not to increase significantly," said analysts at Commerzbank.

There are growing concerns about soyabean planting, with just 29 per cent of fields planted, lagging far behind the five-year average figure of 66 per cent.

Winter wheat is also suffering from the wet conditions, with 61 per cent of crops in good or excellent condition — down five percentage points from a week earlier, according to Commerzbank.

長く低迷していた米国トウモロコシ価格が一転上昇へ 大豆は低迷が続く

トウモロコシの作付け(播種)が進まない(5月現在、過去5年平均の半分ほど→Crop Progress USDA 5.21)うえに天候不順(4月の寒さと5月まで続いた異例の多雨)で収量減少も予想される。ためにトウモロコシ先物は過去2週間に急騰。トウモロコシ作付けの遅れは、代替作物である大豆の収穫を促す傾向が歴史的にある。よって大豆価格は将来下がるだろう。今夏の天候予想は明るくても、貿易戦争で痛めつけられた農家に明るい展望は開けない。

 

US corn: grainy day

,FT.com,19.5.28

(19年5月17日)

先週末〜今週初めにブッシェル8ドルを切った大豆、上昇に転じたが、8.86〜9.21ドルと言われる大部分の農家の採算ライン(トランプ大統領 対中輸出減少で余った大豆を人道的食料援助に)にはなお及ばない。

大豆先物期近相場が2007年以来初めてブッシェル8ドルを割った(7.97ドル)。最大の要因はトランプ大統領が仕掛けた対中貿易戦争だ。中国は米国大豆の最大の顧客だったが、昨年7月、対米報復措置として大豆輸入に25%の関税を課した。米国大豆の対中輸出は激減に向かい、ブラジルが漁夫の利益を得た。行き場を失った米国大豆は在庫が積み上がるばかり、かくて大豆は歴史的安値に泣くこになったのである。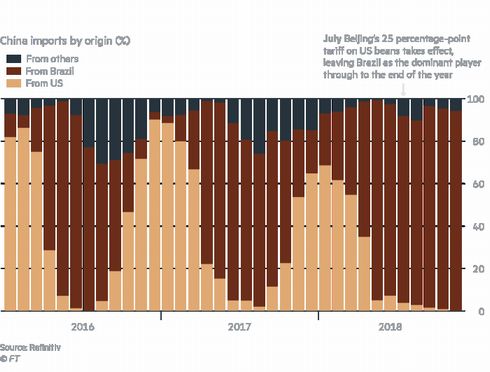 from US-China: farmers count cost of trade war ,FT,com,19.1.8
US-China tensions knock soyabeans to post-crisis low,FT.com,19.5.10
Soyabeans, a commodity sensitive to the state of Sino-US relations, have fallen below $8 a bushel for the first time since the financial crisis as uncertainty rises over trade talks between Washington and Beijing.
A sharp slide in the price of the oilseed came alongside a broader sell-off in financial markets on Thursday, with US stocks down about 1 per cent at midday and long-term US government interest rates tumbling below short-term rates,
in a sign investors were concerned about the economic outlook.The Trump administration's plan to raise tariffs on more Chinese goods this week have undermined hopes of a deal and sparked the sell-off.
China has steadily grown to become the world's largest importer of soyabeans, crushing them into meal to feed pigs and poultry. The US has historically sold the majority of its soyabean exports to China, a business worth $12bn a year.
China imposed a 25 per cent tariff on US soyabeans last July in retaliation for new US duties on its goods, targeting farmers in rural states where a majority voted for Donald Trump as president. The impediment halted US soyabean exports to China for months, until a resumption of trade talks in December led China to make about 13m tonnes of goodwill purchases.
An escalation of the trade war threatens to block those volumes, just as farmers hold record stocks of soyabeans
."The unresolved trade issue with China is hanging over the market. That is the 800lb gorilla," said Michael Cordonnier, president of Soybean & Corn Advisor, a consultancy in Illinois.
Soyabeans for May delivery fell as much as 2.3 per cent to $7.95¼ a bushel on the Chicago Board of Trade, the lowest price for a near-month contract since December 2008.
All futures contracts fell, with soyabeans deliverable after the US harvest in November dropping to $8.30 a bushel.
Most farmers cannot break even at such prices. An Iowa State University analysis estimated costs per bushel for the most commonly planted soyabean varieties at between $8.86 and $9.21.--------
CBOT crop futures extend losses amid bearish USDA report, trade tensions,Xinhua,19.5.11
CHICAGO, May 10 (Xinhua) -- Chicago Board of Trade (CBOT) agricultural futures settled lower for the third consecutive session over larger ending stock estimates and trade tensions.
The most active corn contract for July delivery was down 1.5 cents, or 0.42 percent, to 3.5175 U.S. dollars per bushel on Friday. July wheat was down 4.75 cents, or 1.11 percent, to 4.2475 dollars per bushel. July soybeans were down 3.5 cents, or 0.43 percent, to 8.0925 dollars per bushel.
The U.S. Agriculture Department (USDA) released on Friday its monthly supply and demand report, showing bearish estimates for the agricultural market.
The initial outlook for 2019/20 U.S. wheat is for larger supplies, higher domestic use, lower exports, and larger stocks. Meanwhile, higher world ending stocks and fierce competition in international market will pressure U.S. wheat further.
The U.S. feed-grain outlook for 2019/20 is for larger corn production and domestic use, lower exports, and greater ending stocks. U.S. corn exports are forecast to decline 25 million bushels in 2019/20, despite larger world corn trade.
Although the 2019/20 outlook for U.S. soybeans is for higher supplies, crush, exports, and slightly lower ending stocks compared to 2018/19, the trade frictions between the United States and China still drag down CBOT soybean prices, said market watchers.

Oilseeds: World Markets and Trade(May 2019):USDA
(18年12月22日)
配合飼料500円上げ トウモロコシ価格が影響 全農 日本農業新聞 18.12.22
 JA全農は21日、2019年1〜3月期の配合飼料の供給価格を、前期(18年10〜12月期)に比べ、全国全畜種総平均で1トン当たり約500円引き上げると発表した。値上げは2期ぶり。米中間の貿易摩擦から大豆かすの価格は下落したが、トウモロコシの価格上昇や円安が影響した。また、全農によると、10〜12月期の配合飼料価格安定制度による補填(ほてん)は発動する見通しだ。
 トウモロコシのシカゴ相場は現在、1ブッシェル(約25キロ)380セント台で推移。米国産の豊作の見通しから9月には350セント前後だったが、好調な輸出需要や、10月11日発表の米農務省の需給見通しで単位収量が下方修正されたことなどから上昇した。米国産は史上2位の生産量となる見通しだが、米国内の飼料やエタノールなどの需要も史上最高が予想され、今後の相場は底堅く推移する見込みだ。
 一方、大豆かすのシカゴ相場は1トン当たり340ドル前後で推移し、同350ドル台だった9月より下落した。中国が米国産の大豆に報復関税をかけたことで、11月8日の米農務省需給見通しが米国の大豆輸出量を下方修正され、期末在庫が大幅に増加したことなどが影響。国内大豆かす価格も値下がりが見込まれる。
 為替相場は9月上旬に1ドル111円前後だったが、今回の価格決定時には113円前後で、円安となった。海上運賃は10月には1トン当たり53ドル台まで上昇したが、原油相場の下落などで現在は50ドル前後で推移する。

 参考:飼料用トウモロコシ輸入価格、米国輸出価格、円相場(2018年)

CBOT soybean futures fall as Chinese purchases miss forecast,Xinhua.18.12.22
CHICAGO, Dec. 21 (Xinhua) -- Chicago Board of Trade (CBOT) soybean futures ended below 9 U.S. dollars per bushel for the first time in three weeks, as Chinese purchases missed traders' forecast.
Private exporters on Thursday reported to the U.S. Department of Agriculture (USDA) new export sales of 204,000 metric tons of soybeans for delivery to China, following 1.199 million metric tons to the same destination this week.
China bought 1.43 million metric tons of U.S. soybeans last week, according to the USDA. Traders had anticipated that China would buy more soybeans, market watchers said.
CBOT soybeans were also under pressure from abundant supply from South America, overshadowing support from renewed Chinese buying of U.S. supplies.
Wheat futures dropped sharply after Russia raised its grain export forecast and dampened speculation that tight supplies would prompt curbs on overseas shipments from the world's biggest wheat supplier.
Corn futures rose slightly higher after hitting a three-week low in the previous session.
At the end of the session, the most active corn contract for March delivery went up 3.25 cents, or 0.87 percent to close at 3.785 dollars per bushel. March wheat delivery was down 9.5 cents, or 1.81 percent to close at 5.14 dollars per bushel. March soybean delivery was down 8.5 cents, or 0.94 percent to close at 8.9775 dollars per bushel.
(18年12月15日)
大豆、底入れ後も上値重く 米中「休戦」に不透明感 日本経済新聞 18.12.14
米中貿易戦争のあおりで春夏に急落した大豆相場が底入れした。シカゴ先物(期近)は

1

ブッシェル

9.1

ドル前後と

9

月の安値より

1

割高い。中国が米国産の農産物輸入を増やす姿勢を示し、投機筋が買い意欲を強めた。ただ米中貿易がどこまで回復するか不透明なうえ、主産国の米国やブラジルの供給は潤沢。上値の重い展開を予想する声は多い。
(18年12月3日)
US soyabean futures rise on hopes for China exports,FT.com,18.12.3
The tentative truce in the trade war between Washington and Beijing sparked a rise in the price of US soyabeans, reflecting hopes that exports may soon resume to China.
January-delivered soyabean futures opened up 3.2 per cent early Monday at $9.2375 a bushel, the highest price since June, before giving up some gains on the Chicago Board of Trade.
Soyabean futures fell more than 1 per cent on the Dalian Commodity Exchange in China.China, the world's largest consumer of soyabeans, increased tariffs on US-grown supplies by 25 percentage points in July in response to duties on its goods imposed by US President Donald Trump.
---------
(18年11月29日)
Soyabeans bounce back on hopes of US-China trade truce,FT.com,18.11.28
Soyabean prices bounced back on Tuesday as traders continued to weigh the prospect of the US and China reaching a trade war truce at the G20 summit later this week.
Prices for the foodstuff fell on Monday by the most in five weeks and to their lowest since early November after US President Donald Trump said in an interview he would push through plans for new tariffs on $267bn of tariffs on Chinese imports if he and Xi Jinping, his counterpart in Beijing, could not agree a deal on trade.



関税合戦、中国に痛手 米国産大豆激減、養豚業から悲鳴
朝日新聞 

18.11.28
(18年10月27日)
US farmers turn to Iran to plug hole in soyabean sales,FT.com,18.10.26
Islamic republic's imports have surged as tariffs decimate US sales to China
To US farmers whose soyabean sales have slumped amid a trade war with China, an unlikely country is lending a hand: Iran.
The Islamic republic's imports of soyabeans from the US have surged this autumn ahead of looming sanctions from President Donald Trump. Almost 335,000 tonnes have left terminals on the Mississippi river since the crop marketing year began in September, data from the US department of agriculture data show, up from zero at the same point last year and more than volumes to most European countries.
The unusual shipments reflect a multi-faceted story. China, the world's largest soyabean importer, in July sharply raised duties on US supplies in retaliation for tariffs on its products. Soyabean prices have declined by 20 per cent in Chicago as the Chinese buy oilseeds elsewhere.
US sanctions on Iran's oil exports will resume on November 4 following Mr Trump's withdrawal from a nuclear accord with world powers. Iran has been stockpiling basic foods such as corn and soyabeans in an aim "not to face any shortage of strategic commodities", said Mani Jamshidi, a food industry expert in Tehran.
Importers including Mexico, Spain, Egypt, Thailand and Iran have taken advantage of the depressed price of US soyabeans. Akbar Sebghati, secretary of the Iranian Oilseed Extraction Industry Association, said they now cost importers €50 less per tonne than soyabeans from South America, the other main source of world supplies
."We buy our commodity from a cheaper producer, no matter [if] it is US or another country. It has nothing to do to politics," said Mr Sebghati.
Addressing the US-China trade war, he said: "We should seize opportunities provided to our country during decision making in world trade."
(18年9月18日)
小麦、トウモロコシの限月 18年9月から12月へ(17日)。
(18年7月31日)
Drought turns up the heat on wheat producers,FT.com,18.7.31
Euronext milling benchmark at a 4-year high as analysts downgrade output estimates
The wheat market is feeling the heat, with key global producers sweating over a drought that has curbed output. After several years of bumper harvests, the wheat market is poised to tighten sharply as Russia, Australia and EU countries contend with scorching temperatures.In Australia, the state of New South Wales has announced a A$500m aid package for struggling farmers, while Germany's farming association has called for €1bn in financial assistance from federal and state authorities
(18年7月12日)
Soyabean prices drop to lowest since 2008,FT.com,18.5.12
Soyabean prices are getting crushed, dropping to their lowest since the financial crisis as the trade war between the US and China ratchets up.Late on Tuesday, the Trump administration started the process of imposing tariffs on a further $200bn of imports from China, which would add to levies on $34bn of goods that were put in place at the start of July.China has already said it would target US soyabeans, of which it is the biggest buyer, for retaliatory tariffs, making the crop one of the key battlegrounds for the two large economies.

参考:08年9−12月の大豆先物相場 
08年10月24日 23日、3日続けて下落していたトウモロコシと大豆が上昇へ。価格下落で既に農家の売り控えが起きている米国中西部で雪と強風。
08年10月21日 米国やEUの金融救済策が世界的景気後退を抑え、需要が回復するという思惑から、20日、トウモロコシ、大豆が反発上昇。
08年10月13日 金融危機で飼料・食料・バイオ燃料需要の減退が予想されるなか、米国農務省(USDA)が先週末(10日、金曜日)、米国のトウモロコシと大豆の収穫見通しと世界小麦在庫見通しを予想を超えて引き上げたことから、トウモロコシと大豆はストップ安、小麦も急落。
08年10月7日 10月6日、金融危機の広がりによる世界的な景気後退→家畜飼料やバイオ燃料に対する需要減少の恐れから、軒並みにストップ安。
08年9月13日 ブッシュ大統領と議会が7000億ドルの公的資金を注ぎ込む金融救済計画に合意したことで米ドルがユーロに対して急騰、米国穀物に対する世界の需要の減少を恐れて大豆、トウモロコシが急落。
(18年7月3日)
大豆、この年の最低レベルに→ 穀物・大豆等先物(期近)価格の長期推移。米国農民はトウモロコシより儲かると空前の大豆作付に走っているが(US farmers plant more soya than corn for first time since 1983,FT.com,18.6.30)、米中貿易戦争を契機とするこの暴落は想定外だろう。
関連
Trump may use New Deal-era agency to aid farmers,FT.com,18.7.2
The Trump administration is exploring the use of a New Deal-era agency to salve financial wounds US farmers have suffered from its trade battle with China.
(18年6月20日)
US-China trade spat takes toll on soyabeans and squeezes farmers,FT.com,18,6.20
Soy Growers in Middle of Tariff Feud with China Stand to Suffer Most,Am,eican Soybean Association,18.6.19
(18年6月19日)
Soyabean futures hit lowest since 2016 on China-US trade spat,FT.com,18.6.19
Futures for other agricultural commodities were also lower on Monday morning. Corn for December delivery was down 1.4 per cent, while wheat for September delivery was off 1.5 per cent. Cotton for December delivery dropped 2.4 per cent.
(18年6月16日)
 トランプが仕掛けた貿易戦争のお陰で米国大豆の対中国輸出が大きく減る見込み。大豆が急落、影響はトウモロコシにも及ぶ。米国農家は大損害だろう。
(18年5月3日)
Tariffs threat 'already hurting US soyabean sales',FT.com,18.5.3
Boss of trading group Bunge says China is buying instead from Brazil and Canada
Chinese buyers have halted purchases of this year's coming US soyabean crop, according to the head of the world's biggest oilseed processor, a sign that a possible trade war is already reshaping buying patterns to the detriment of American farmers.
Soren Schroder, chief executive of Bunge, said in an interview that he saw the US making "very little if any" sales of soyabeans to China, the top importer of the foodstuff
."Whatever Chinese business is taking place is directed away from the US to Brazil and Canada," he said.
(18年4月25日)
Soyabeans avoid longest losing streak this year,FT.com,18.4.5
(18年4月12日)
Argentina imports 120.000 tons of soy-beans from United States,Merco Press,18.4.12
(18年4月4日)
Russian grain rise boosts new wheat contract,FT.com,18.4.4
The rise of the Black Sea region as a leading grain exporter has boosted traders' interest in a new wheat futures contract — one of the few agricultural commodities derivatives to gain traction on the international markets of late. CME Group's Black Sea wheat futures contract that debuted in November last year has attracted wheat traders buying and selling the grain from Russia and Ukraine, while also catching the attention of hedge funds.
 
(18年3月30日)
US farmers to plant less corn, soyabeans in 2018,FT.com,18.3.30
(18年3月27日)
1トンあたり約1100円値上げ−JA全農 4〜6月期の配合飼料価格 農業協同組合新聞 18.3.26
(18年3月24日)
Grain prices sink on threat of Chinese food import tariffs,FT.com,18.3.23
(18年3月13日)
Grain and soyabean prices drop on US tariff concerns,FT.com,13.3.12
(18年3月3日)
小麦が急騰。米国の冬小麦主産地で干ばつ傾向が続いており、小麦生産への影響が懸念されるため。
アルゼンチン干ばつでトウモロコシ、大豆も上昇基調。
(18年2月14日)
Soyabean, soya meal prices jump on Argentina drought concerns,FT.com,18.2.13
Soyabean and soya meal prices jumped on worries about drought in Argentina, a key producer and exporter, as rains last week fell short of expectations.
Dry weather is forecast for the next 5 days, and soyabean prices gained 2 per cent in Chicago's CBOT above $10 a bushel for the first time in two months, while soya meal rallied 4 per cent to $358.2 a short ton, the highest since July 2016. Argentina is the world's largest soya meal exporter, accounting for almost half the international market.
"Meal appears to be making a massive breakout of a trading range that has been in place for eighteen months," said Michael McDougall at ED&F Man Capital Markets.
(18年1月13日)
Corn and wheat futures drop after USDA report confirms supply glut,FT.com.18.1.13
Grain markets were momentarily jolted out of a months-long torpor by a suite of grain reports from Washington.
Corn and wheat futures dropped, and soyabeans jumped, after the US Department of Agriculture issued data on grain stocks, crop production and seedings of winter wheat.
Supplies of grain are ample in many parts of the world, pressuring prices and draining volatility from the market.

→Grain:World Markets and Trade(USDA)
(18年1月9日)
トウモロコシ相場、二毛作で高まる南米の存在感 日本経済新聞 18.1.9
(17年12月25日)
配合飼料価格1tあたり1500円値上げ−JA全農 農業協同組合新聞 17.12.25
(17年9月26日)
配合飼料供給価格 1tあたり400円値下げ−JA全農 農業協同組合新聞 17.9.25
(17年7月11日)
米国干ばつ減収の恐れ払拭で急落
Corn, wheat, soyabean prices fall after USDA forecasts,FT.com,17.8.11
Futures prices for a wide range of grains fell sharply on Thursday in the US as positive forecasts from the US Department of Agriculture drove investors off bets that yields for crops including wheat, corn and soybeans would come up short.→ USDA-NASS
(17年7月1日)
米国農務省、小麦作付面積の記録的減少予測で小麦がストップ高。大豆、トウモロコシも干ばつによる減収予想で急騰。
Soybeans and Spring Wheat Surge After USDA Report,Bloomberg,17.7.1