シカゴ商品取引所小麦・トウモロコシ・大豆先物相場(期近・セツルメント)の推移
史上最高:小麦=9.24/bushel(08.6.26) トウモロコシ=7.7325/bushel(08.6.1) 大豆=16.58/bushel(08.7.4)
1bushel=27.215kg(小麦・大豆)、25.401kg(トウモロコシ)
コメント/ニュース(最新
:18.6.20 16年以前は削除)
最近260取引日17.6.5-18.6.22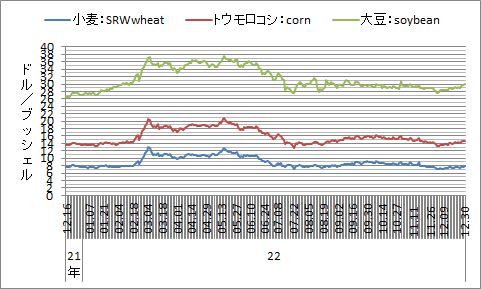 (18年6月20日)
US-China trade spat takes toll on soyabeans and squeezes farmers,FT.com,18,6.20
Soy Growers in Middle of Tariff Feud with China Stand to Suffer Most,Am,eican Soybean Association,18.6.19
(18年6月19日)
Soyabean futures hit lowest since 2016 on China-US trade spat,FT.com,18.6.19
Futures for other agricultural commodities were also lower on Monday morning. Corn for December delivery was down 1.4 per cent, while wheat for September delivery was off 1.5 per cent. Cotton for December delivery dropped 2.4 per cent.
(18年6月16日)
 トランプが仕掛けた貿易戦争のお陰で米国大豆の対中国輸出が大きく減る見込み。大豆が急落、影響はトウモロコシにも及ぶ。米国農家は大損害だろう。
(18年5月3日)
Tariffs threat 'already hurting US soyabean sales',FT.com,18.5.3
Boss of trading group Bunge says China is buying instead from Brazil and Canada
Chinese buyers have halted purchases of this year's coming US soyabean crop, according to the head of the world's biggest oilseed processor, a sign that a possible trade war is already reshaping buying patterns to the detriment of American farmers.
Soren Schroder, chief executive of Bunge, said in an interview that he saw the US making "very little if any" sales of soyabeans to China, the top importer of the foodstuff
."Whatever Chinese business is taking place is directed away from the US to Brazil and Canada," he said.
(18年4月25日)
Soyabeans avoid longest losing streak this year,FT.com,18.4.5
(18年4月12日)
Argentina imports 120.000 tons of soy-beans from United States,Merco Press,18.4.12
(18年4月4日)
Russian grain rise boosts new wheat contract,FT.com,18.4.4
The rise of the Black Sea region as a leading grain exporter has boosted traders' interest in a new wheat futures contract — one of the few agricultural commodities derivatives to gain traction on the international markets of late. CME Group's Black Sea wheat futures contract that debuted in November last year has attracted wheat traders buying and selling the grain from Russia and Ukraine, while also catching the attention of hedge funds.

(
1
8年3月

30

日
)
US farmers to plant less corn, soyabeans in 2018,FT.com,18.3.30
(18年3月27日)
1トンあたり約1100円値上げ−JA全農 4〜6月期の配合飼料価格 農業協同組合新聞 18.3.26
(18年3月24日)
Grain prices sink on threat of Chinese food import tariffs,FT.com,18.3.23
(18年3月13日)
Grain and soyabean prices drop on US tariff concerns,FT.com,13.3.12
(18年3月3日)
小麦が急騰。米国の冬小麦主産地で干ばつ傾向が続いており、小麦生産への影響が懸念されるため。
アルゼンチン干ばつでトウモロコシ、大豆も上昇基調。
(18年2月14日)
Soyabean, soya meal prices jump on Argentina drought concerns,FT.com,18.2.13
Soyabean and soya meal prices jumped on worries about drought in Argentina, a key producer and exporter, as rains last week fell short of expectations.
Dry weather is forecast for the next 5 days, and soyabean prices gained 2 per cent in Chicago's CBOT above $10 a bushel for the first time in two months, while soya meal rallied 4 per cent to $358.2 a short ton, the highest since July 2016. Argentina is the world's largest soya meal exporter, accounting for almost half the international market.
"Meal appears to be making a massive breakout of a trading range that has been in place for eighteen months," said Michael McDougall at ED&F Man Capital Markets.
(18年1月13日)
Corn and wheat futures drop after USDA report confirms supply glut,FT.com.18.1.13
Grain markets were momentarily jolted out of a months-long torpor by a suite of grain reports from Washington.
Corn and wheat futures dropped, and soyabeans jumped, after the US Department of Agriculture issued data on grain stocks, crop production and seedings of winter wheat.
Supplies of grain are ample in many parts of the world, pressuring prices and draining volatility from the market.


→Grain:World Markets and Trade(USDA)
(18年1月9日)
トウモロコシ相場、二毛作で高まる南米の存在感 日本経済新聞 18.1.9
(17年12月25日)
配合飼料価格1tあたり1500円値上げ−JA全農 農業協同組合新聞 17.12.25
(17年9月26日)
配合飼料供給価格 1tあたり400円値下げ−JA全農 農業協同組合新聞 17.9.25
(17年7月11日)
米国干ばつ減収の恐れ払拭で急落
Corn, wheat, soyabean prices fall after USDA forecasts,FT.com,17.8.11
Futures prices for a wide range of grains fell sharply on Thursday in the US as positive forecasts from the US Department of Agriculture drove investors off bets that yields for crops including wheat, corn and soybeans would come up short.→ USDA-NASS
(17年7月1日)
米国農務省、小麦作付面積の記録的減少予測で小麦がストップ高。大豆、トウモロコシも干ばつによる減収予想で急騰。
Soybeans and Spring Wheat Surge After USDA Report,Bloomberg,17.7.1