シカゴ商品取引所小麦・トウモロコシ・大豆先物相場(期近・セツルメント)の推移
史上最高:小麦=9.24/bushel(08.6.26) トウモロコシ=7.7325/bushel(08.6.1) 大豆=16.58/bushel(08.7.4)
1bushel=27.215kg(小麦・大豆)、25.401kg(トウモロコシ)
コメント/ニュース(最新::
18.1.13、16年以前は削除)
最近260取引日16.12.28-18.1.17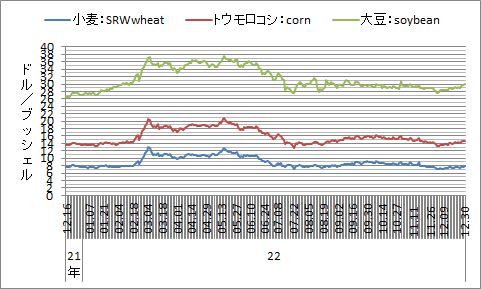 (18年1月13日)
Corn and wheat futures drop after USDA report confirms supply glut,FT.com.18.1.13
Grain markets were momentarily jolted out of a months-long torpor by a suite of grain reports from Washington.
Corn and wheat futures dropped, and soyabeans jumped, after the US Department of Agriculture issued data on grain stocks, crop production and seedings of winter wheat.
Supplies of grain are ample in many parts of the world, pressuring prices and draining volatility from the market.


→Grain:World Markets and Trade(USDA)
(18年1月9日)
トウモロコシ相場、二毛作で高まる南米の存在感 日本経済新聞 18.1.9
(17年12月25日)
配合飼料価格1tあたり1500円値上げ−JA全農 農業協同組合新聞 17.12.25
(17年9月26日)
配合飼料供給価格 1tあたり400円値下げ−JA全農 農業協同組合新聞 17.9.25
(17年7月11日)
米国干ばつ減収の恐れ払拭で急落
Corn, wheat, soyabean prices fall after USDA forecasts,FT.com,17.8.11
Futures prices for a wide range of grains fell sharply on Thursday in the US as positive forecasts from the US Department of Agriculture drove investors off bets that yields for crops including wheat, corn and soybeans would come up short.→ USDA-NASS
(17年7月1日)
米国農務省、小麦作付面積の記録的減少予測で小麦がストップ高。大豆、トウモロコシも干ばつによる減収予想で急騰。
Soybeans and Spring Wheat Surge After USDA Report,Bloomberg,17.7.1